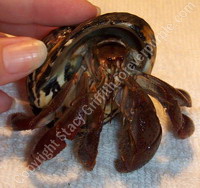 A recent email question got me to thinking about how my approach to pet stores has changed since I began crabbing. When I first started keeping hermit crabs I blamed the pet stores for the death of my hermit crabs because their set up was less than idea. Over time and with the help of researchers like Sue Latell we have discovered that the physical stresses endured from the time of capture are really to blame. Most pet stores don't have a perfect set up and if they did, they may find that their number of deaths goes up. This will be explained in greater detail if you read the articles below. So now my opinion is if the store has a clean set up with fresh food and water, that's probably as good as we can expect.
Trisha writes:
Hello! My name is Trisha and I live in the St. Louis area. I did a search trying to find a place to buy hermit crabs and somehow or another it led me to your site. Do you live in the St. Louis area? If so, is there any place around here that you recommend for buying hermit crabs? I don't feel real good about the conditions of the petco near us and I'd rather find a better place to buy some crabs, if possible.
I really like your blog – and I'm not just saying that, you have lots of good information.
Thanks,
Trisha
Wimblees says:
Sadly not all petstores even have a standard set up for the hermit crabs. Our Petco (Fairview Heights) is decent, another one nearby (Glen Carbon) is better. Our Petsmarts are the same, one (O'Fallon) is pretty good and the other (Glen Carbon) is horrible. If you can find a petstore that offers at least a standard set up, even though not ideal, I would go ahead and purchase your crabs there. There are ways you can help increase the chances of survival once you get the crabs home. Thanks to some extensive research conducted by Sue Latell, and some field tests I participated in, we now have a method to help ease the transition from store to home in a way that minimizes physical stress. I will provide you with a link to that article which is located on my other website The Crab Street Journal.
In cold weather, be sure to take a cooler or some other insulated item with you into the store. Exposure to frigid temps can be lethal to an already stressed out hermit crab. If possible keep your car running so it's warm as well. A warm towel would be fine so long as we aren't talking super hot. I don't know if you sew at all but you can make a super easy warmer with some fabric and uncooked white rice. Just make a pouch or bag of fabric and fill it with rice and stitch shut, then toss in the microwave for 30 seconds to 1 minute at a time until it's good and warm. It will hold the heat for quite some time and it's reusable and earth friendly 🙂
Look for active crabs when buying and yes trying to get them the day they come in is a good idea so you can begin feeding them well.
Sue Latell developed a method for introducing and acclimating new hermit crabs to your existing crabitat. This eases the transition from pet store conditions to proper conditions and helps prevent over stressing as the body tries to adapt to the new conditions. You can find the two articles relating to that here:
http://crabstreetjournal.com/xoops/modules/news/article.php?storyid=23
http://crabstreetjournal.com/xoops/modules/news/article.php?storyid=22